The main cherry growing regions are located in north-eastern Victoria -- Goulburn Valley, Upper Goulburn/Strathbogie -- and in southern Victoria.
These areas account for about 85 per cent of Victoria's cherries. Other smaller areas are located in placed such as Bendigo and Kerang.
Production Figures
Number of Enterprises: 95
Area (estimate): 800 hectares
Production: 4500 tonnes
Production Characteristics
The main production season is mid November to late January, with some varieties starting in early November, and can last until late February with later varieties.
Because of the wide range of climate growing areas, local growers can produce fruit for about three months of the year from November to February. Fruit grown in northern Victoria matures much earlier than the higher regions, especially Tolmie, which can still be harvesting up to late February.
Current production is estimated at approximately 4500 tonnes. This figure is highly dependent on climatic conditions such as frost during flowering and rain during harvest, both of which can severely reduce the harvested crop.
Modern production systems are used in orchards. Most of the newer plantings are trained to 'open bush' systems.
Orchards are irrigated using low-flow systems and growers are extremely conscious of the need to improve their management practices related to orchard soil management.
More than 50 varieties are currently being grown. However, as buyers are starting to demand improved quality and longer shelf life, many of the older and poorer performing varieties are being replaced.
Merchant, Bing, Supreme, Empress, Stella, Lapin, Sweetheart and Van are the main varieties grown.
Many new varieties have been introduced recently. The best performing of these are Ferprime, Simone, Early Sweet, Royal Rainier, Sweet Georgia, Kordia, Chelan, Earlise and Australise.
Pollination Guide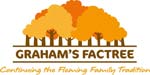 The Cherry Industry is grateful to Graham's FacTree for the development of a cherry pollination and compatibility guide. The guide provides the latest information on which variety pollinates another. To download the guide, click on the link below.