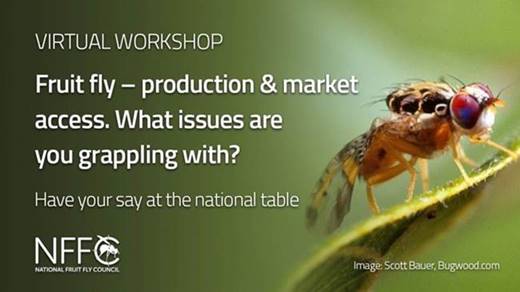 The National Fruit Fly Council will be holding a series of short online workshops during October and November 2020 to gather information from 'the ground up' on fruit fly issues across Australia. At these workshops we want to hear about grower fruit fly challenges and priorities so we can make sure that a wide variety of experiences are represented at the national table.
Workshop #1: 9.30am-11.30am, Tuesday 20 October.
(Register here)
Workshop #2: 1.30pm-3.30pm, Thursday 5 November.
(Register here)
Enter your name and email address in the registration form and submit. Wait for an email confirmation of your registration and then use the links provided in the email confirmation to add the Zoom meeting to your calendar.
Each workshop will include discussions around two key themes:
Protecting production – in-field management, chemical limitations, exotic fruit flies, etc.
Market access – domestic and export trade, treatment options, research, etc.