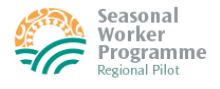 Victoria has opted into the above program, however at this stage from our understanding only the Solomon Islands and Papua New Guinea are approved countries with Tonga and Fiji still in discussions to participate. This will form part of the solution for the upcoming harvest shortfall, however, workers will need to act now if they want to participate. Before being eligible for the program the following criteria must be met and addressed:
You must be an approved employer under the scheme (can take up to 12 weeks currently) or use an approved employer – to register or apply click here
Labour Testing needs to be undertaken to demonstrate that there is not enough local labour in horticulture
The State must be able to manage the quarantine processes for the incoming workforce (it has yet to be decided how this will be funded)
The State must be able to ensure that priority is given to returning Australian's from overseas.
The State's Chief Medical Health Officer must also endorse the program and be comfortable with the quarantine processes.
There is a Seasonal Worker Regional Pilot program that is being run in the Goulburn Valley assisting smaller growers to meet harvest needs and attached is a flyer. You can also discuss your needs or questions with Miki Wilson who is the Regional Coordinator on (03) 54305601 or Mobile 0407 611 044.

View the Stock & Land article featuring Agricluture Minister, Jaclyn Symes
Click here for the Seasonal Worker Program Regional Pilot brochure